Hub Overview:
Nepal, the landlocked multiethnic, multilingual, multi-religious country with a population of over 29.2M. Nepal has some of the world's highest mountains including Sagarmatha (Mt. Everest, 8848m). Nepal is the birthplace of the Lord Buddha who was born in 623 BC in the sacred area of Lumbini located in the Terai plains of southern Nepal. Nepalese culture comprises the cultures practiced by 126 ethnic groups live in Nepal. There are 123 languages spoken as mother tongue in Nepal. Nepalese cultures represented by the music, dance, craft, literature, cushion, and festivals of the ethnic groups. Nepal is widely known as a land of festivals and a place of diverse culture and traditions. Festivals are celebrated throughout the year. Most popular festivals – Dashain, Tihar and Teej, fall in the months of September and October.
Nepalese Canadian Society of Edmonton (NECASE), registered in 2000 in the Province of Alberta, is a non-for-profit community-based organization with over 5,000 people of Nepalese origin living in and around Edmonton, Alberta, CANADA. The mission of the society is to promote goodwill and understanding among the people of Nepalese origin and Canadians at large in the development of a strong community while fostering the multicultural spirit of Canada. NECASE volunteers have been celebrating the festivals every year in the community since its establishment.
This year, NECASE is celebrating Dashain, Tihar, and Teej festivals in conjunction with CULTURAL DAYS 2020 celebration for the first time. NECASE volunteers are excited to be a part of the CULTURAL DAYS celebrations and share Nepalese festivals with other Canadian communities. In the Nepalese Canadian Cultural Showcase hub, you would have the opportunity to enjoy the following programs:
EVENT 1:  DASHAIN Festival Celebration – Ghatasthapana to Dashami on Radio Kathmandu (CJSR 88.5FM)
October 18 : 11 am-12 pm: Part A – Celebrating Ghatasthapana
October 24: 11 am-12 pm: Part B – Celebrating from Saptami to Dashami
EVENT 2: TEEJ Celebration – The Nepalese Women Festival
October 20: 11 am–11:45 am
EVENT 3: DASHAIN and TIHAR Celebration – The National Festival
October 25: 12 pm-1 pm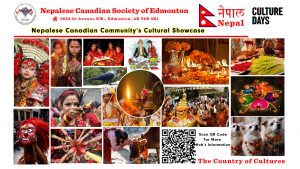 Hartalika Teej is celebrated for the well-being of spouse and children and purification of their own body and soul by Nepalese women.  This festival is a three days long celebration that combines both feast and fasting and is dedicated to the goddess Parvati for her union with Lord Shiva. The first day of Teej is called "Dar Khane Din". On this day women gather at one place in their red symbolic attire and start dancing and singing. The second day is known as a fasting day and the third day is named "Rishi Panchami". This is the festival with red sarees, red tika, red bangles, sing and dance on Teej special songs for days. Teej is the most famous festival among Nepali women. Through this presentation, the audience would get an opportunity to learn about this great festival. The festival's highlights are presented through songs, play, and music.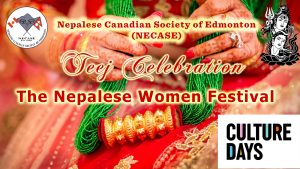 Cultural day celebration will start with a kick-off program via Radio Kathmandu operating under CJSR 88.5 FM in Edmonton and cjsr.com worldwide. Radio Kathmandu, a community radio operated by NECASE started in October 2005. Radio Kathmandu is a cultural arm of the Nepalese community in Edmonton, which showcases Nepalese culture, music, songs, and events. Radio Kathmandu runs every Sunday from 11 AM to 12 noon. Radio Kathmandu helps to promote Nepalese culture. For the past three years youth volunteers, mostly of school-going age, are running the show. Engaging youths help to preserve Nepalese culture and transfer the knowledge to the young generation. Our volunteer presenters often mention that doing the show helps them learn a bit more about the Nepali culture and explain it to the wider Canadian audience through the songs and culture. In this way, we are bringing Ambassadors for Nepalese culture and heritage.
On the kick-off show, the coordinator of the Cultural Day celebration will highlight all three events undertaken by the Hub. The description will include how festivals and cultural events are planned. Nepal is home to 126 ethnic groups. There are some festivals that are celebrated across the whole spectrum of ethnic groups. In Canada, Nepalese communities celebrate Dashain, Tihar, Nepali New Year, Buddha Jayanti, Teej. As this year's Cultural Days coincides with the Dashain festival, therefore one of the main attractions of the Hub is the Dashain festival celebration. Dashain is one of the biggest festivals in Nepalese culture. The Dashain festival is celebrated for fifteen days. It is celebrated as a symbol of conquering deception by truth, darkness by light, and conflict by peace.
Radio Kathmandu will run two shows to cover the Dashain festival celebration. On the first show of Radio Kathmandu (October 18th) the first day of the Dashain festival which is called Ghatasthapana will be highlighted. The next show on Radio Kathmandu (October 25th) will cover the Dashain festival until the 15th day. Radio Kathmandu will also present music and songs related to Dashain Festival on both shows.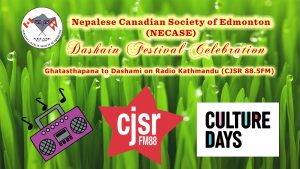 Dashain festival is the biggest festival in Nepal and celebrated throughout the world by people of Nepalese heritage. As the Dashain festival is celebrated for 15 days, from the first day of the full moon phase in Ashoj (September-October) until full moon day called Kojagrath, there is joy and happiness in the community. People sing, dance, and celebrate in a joyful environment. People gather at the senior-most (eldest) person's house. People travel from abroad to the main house on the occasion of the Dashain festival.  There are events that represent mythological stories. However, there are certain cultural events within the Dashain celebration. One of them is to ride on a swing (lift from the ground) made up of hanging ropes on tree branches. On each day of the Dashain celebration, there is a particular cultural activity and worshiping of Goddess Durga (Goddess of power and strength). On the tenth day of Dashain, the first day of the Dashain festival is called Ghatasthapana. On this day people erect pitcher and worship Durga (goddess of power and strength). On the tenth day, it is celebrated as a victory day. People receive blessings from their seniors, put tika (rice soaked in vermilion color), and yellow-colored jamara. Jamara are seedlings of barley sowed on the first day of Dashain (Ghatasthapana) in the dark.
Right after Dashain comes a festival called Tihar. Tihar festival is celebrated for five days to strengthen the relationship, whether it is between people and nature, or people with animals, or brother and sister. This festival is celebrated by worshiping brother and sister's relationship. On each day people gather at houses to play deusi and bhailo. The homeowner provides foods to the deusi and bhailo players and seeks blessings. There are cultural performances including dances and songs. We are showing recorded cultural performances in this part.